Breathe Underwater

Maybe you 've heard of this evergreen, small island in the Gulf of Thailand? For example, some Friends have told you enthusiastically that they have done their first Open Water Diver Course on Koh Tao in Thailand in crystal clear, warm waters? And that diving on Koh Tao was not only great fun but was also absolutely inexpensive? Just do believe your loved ones - it's all true :)
Or have you read in the travel guide of your choice about the beautiful tropical island of Koh Tao and that everything is (almost) about diving on Koh Tao?
There's more than diving on Koh Tao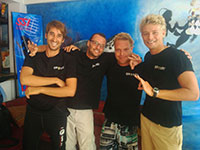 Diving on Koh Tao has become so well known and popular, since for example nearly throughout the year we have optimal weather and temperature conditions (on the surface and in the water ).
Thus, we don't really have a hard rainy season here and the sea is almost always 30 degrees Celcius – that's nice and warm, all over the year! Perfect for relaxed diving and swimming. This also affects the visibility under water, which is almost always very good!
Yes - in the first place Koh Tao is famous for diving. And about 40 dive schools and thousands of enthusiastic divers in each new year, just can't be wrong.
But Koh Tao has more to offer than diving. For example our island has got the reputation of the most relaxing and beautiful island in whole Southeast Asia!
Diving on the doorstep ..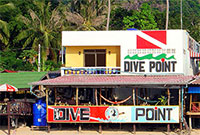 The island is fortunate to have over 20 top dive sites in the immediate area.
In Australia on the Great Barrier Reef the dive sites are far away from the coast. You have to go for hours to start a dive! The dive sites of Koh Tao are only about 10 to 20 minutes away by boat.
Also, there is no real current around Koh Tao, which is especially good for dive beginners, like Open Water students. If you may think that diving on Koh Tao is too crowded under water and the divers destroy all the marine life, you are wrong. The ocean is BIG and you won't see that many other divers (but your own group) in the sea.
Furthermore we as dive professional do everything in our power to protect the reefs. It starts with a good education of students so that they are aware of, for example, not touching anything.
We also organize "Reef Clean Ups", where we collect the garbage in the ocean. Also, we are actively engaged in environmental protection associations such as "Project Aware". In addition, around Koh Tao we do have a fishing exclusion zone. So we can still admire the marine life in the water and not on the plate.
Contact Us! Please text us so we can make sure that you really get what you want :)