Info

Required

Summary

Prices

Contact us!
Try diving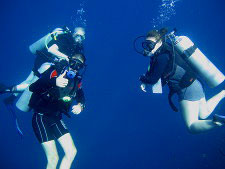 The Discover Scuba Diving (DSD) Program allows you to dive into the fascinating underwater world for just one day without doing a four-day Open Water Diver diving course.
In the morning you will meet your instructor and receive an introduction to the diving equipment and some basic dive theory. At lunch time you do some small useful diving exercises in the pool.
In the afternoon you go with one of our dive boats and other scuba divers to a real dive site! Here you'll dive with your instructor for the very first time. You experience what it feels like to breathe underwater and you can take a look at the fascinating marine life and corals in the sea around Koh Tao.
However - the Discover Scuba Diving is NOT a diving course. When you do the Open Water Diver course , you are allowed, trained and certified to go diving anywhere in the world.
This is not possible with the Discover Scuba Diving Program. Here you will receive no certification and you are still only allowed to go diving with an instructor.
Discover Scuba Diving is really just a preview of what awaits you as a true diver. Anyway - it's really worth it, if you have too little time for the open water course. Otherwise we recommend you a real scuba diving course as the Open Water Diver .
Please contact us IN ADVANCE (important!), so we can organize your DSD Program for you
To participate
you are at least 10 years old li> ul>

Summary
Schedule: 1 day!
9:00 am: Meeting and some theory
10:30 am: Starting the exercises in the pool
12:30 pm: One or two dives in the sea
Prices
2500 THB *
* All prices are per person, in Thai Baht (THB) and include all taxes
Complete rental dive equipment such as BCD, mask, fins, etc. included