Info

Required

Summary

Prices

Contact us!
Become a Rescue Diver on Koh Tao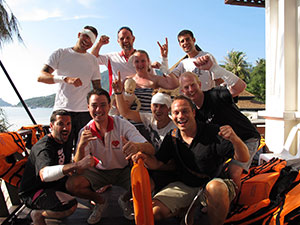 Scuba diving is a very safe sport . But nothing in the world is safe 100%..so even when highly unlikely - what IF something happens ? Well, even then diving incidents mostly cause no serious damage. And this is usually the merit of qualified divers, which assess the situation and intervene in an emergency. These are the
Rescue Divers
Our Rescue Diver Course takes three days. The course consists of a day in the pool and theoretical instruction in the classroom. We will also do four dives in the sea. These dives are a combination of Rescue Diver training (eg of simulated rescue scenarios) and "Fun diving".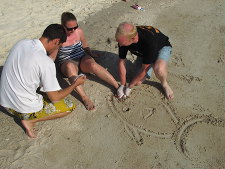 The Rescue Diver Course is a crucial step for your dive education , for example if you want to be prepared for an unpleasant situation or if you are planning your first step into professional diving . This course is recommended for every diver!
Thus, the course offers the perfect combination of safety exercises and the real reason of diving: to have fun. And we promise you fun! Some of our Rescue Instructors are very good (Hollywood?) actors and they LOVE to act and play. And that's always very amusing for the other divers on the boat ;) But..no more hints – find out yourself. It's one of the most enjoyable courses!
For your Rescue Diver Course you need to have participated in a First Aid Course, within the last two years.. Please bring a written proof of this. Alternatively, we also offer you an EFR (Emergency First Responder = First Aid ) Course right here at Go And Dive. This course you can complete one day before the Rescue Diver Course.
Please contact us IN ADVANCE (important!), so we can organize your Rescue Diver Course for you.
To participate
you are an Advanced Open Water Diver li>
you have done an EFR/First Aid course in the last two years li>
you are at least 15 years old li> ul>

Summary
Schedule: 4 days (including EFR/First Aid)
Day 1 – EFR/First Aid Course span>
9:00 am: EFR theory classes li>
12:30 pm: Practice skills and Exam (Easy!) li>
Day 2

08:30 am: Rescue theory classes li>
11:30 am: Exam (Easy!) li>
12:30 pm: Practice in the pool li>
Day 3

07:30 am: Rescue scenarios and rescue exercises in the sea li>
Day 4

07:30 am: Rescue scenarios and rescue exercises in the sea li>
12:30 pm: Congratulations li>
Let's celebrate!
Prices
10.000 THB*
EFR / First Aid
Special Offers
OWD to RESCUE with EFR 32,600 THB
OW to RESCUE without EFR 28,600 THB
OWD to RESCUE with EFR 32,600 THB

* All prices are per person, in Thai Baht (THB) and include all taxes
Complete rental dive equipment such as BCD, mask, fins, etc. included
Complete Materials included (books, etc.)