Info

Required

Summary

Contact us!
Diving Instructor Development Course on Koh Tao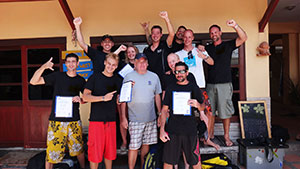 The Diving Instructor shapes divers! This applies from beginner level up to professionals like the Divemaster Program.
You've always dreamt to earn your money with something that you love – like diving? It's possible! Become a Diving instructor - Life is too short, and it is certainly a worthwhile investment! So just do it!
As a Diving Instructor you take care of people and introduce them to the greatest sport in the world!
Students of all ages and all nationalities are trained by you in the classroom and in the water. In return you will receive not only your worldly reward, but also enthusiastic people whose lives have been changed by you!
The diving industry is still growing every year and Instructor jobs are relatively easy to get - when you do a good job of course..and this is what we will teach you in our IDC (Instructor Development Course).
The IDC at Ban 's makes you fit for your working life - and even more. The minimum time for the IDC is about two weeks (according to the Standards). But we think that you should receive a better training than the average Instructor students.
Therefore we've extended the course by another two weeks - at no extra charge! So you are really prepared for your future in this profession!
You also receive additional benefits such as a possible internship at Go And Dive. Here you will gain the practical experience. You will do "team teaching" with our well experienced "Senior Instructors". The seniors will give you advice and tell you what you can still improve in your student courses. This is incredibly valuable to you, as you will gather some real-life experience!
Please contact us , so we can organize your Instructor Development Course (IDC) for you.
To participate
you are already a Divemaster li>
you're already at least six months an "Open Water Diver" li>
you do have a First Aid/EFR Certificate which of no older than 2 years (bring written proof, you can do the EFR at Go And Dive as well) li>
you have 60 dives logged minimum. If not dive with us for free until you logged the 60 dives li>
you do have a dive medical statement - not older than one year (you can do the check on Koh Tao) li>
you own the Instructor Crew Pack (purchased locally) li>
you do have proof of your diver certifications (is viewable online, for SSI and other organizations bring a proof like a dive card please) li>
you are at least 18 years old li> ul>

Reasons for doing your IDC with us:
Go And Dive – more than 20 years of experience li>
5-Star Career Development Center - Award li>
Course Directors (your teachers) in six different languages available li>
Job Search Support li>
A Lifetime unlimited Diving @ Go And Dive
Offer of our rewarding internship program li>
Top price-performance ratio li>
Located right on Sairee Beach – the main spot li>
Accommodation for every budget available li>
Two training swimming pools li>
Big air conditioned classroom (only for the IDC) li>
4 Dive boats and speedboats/longtails li>
Popular "Fishbowl" bar and Go And Dive restaurant right on the resort li>
International flair li>
Free Internet access li>
Discount on equipment and specialty courses li>
Absolutely beautiful, small Island and nothing overpriced li>
Job prospect on Koh Tao li> ul> p>