Info

Required

Summary

Prices

Contact us!
Learn how to dive on Koh Tao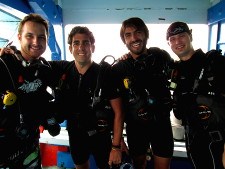 The Open Water Diver Course will arouse the fascination for diving and the sea in you!
This Diving Course is your very first entry into a new and exciting underwater world. From the first breath underwater, you experience the genuine feeling of weightlessness. Move in any direction and don't care about this thing called "gravity" anymore.
Explore the world under the surface - float in the middle of a swarm of thousands of fish and view the colorful corals just below you.
The Open Water Diver Diving Course includes six dives. Most dive schools will only do four dives. We will give you two dives extra, for no extra charge!
But before you start your first dives you meet your fellow Open Water diver students and your instructor of course. Here in the air conditioned classroom your Professional will tell you a few things about diving equipment and dive theory (like physics, f.e.).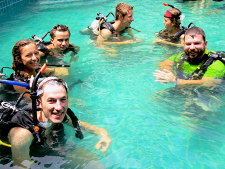 Then, the next day - the pool is announced! Assemble your diving equipment and learn how to use it. Here in the shallow water of the pool, we teach you the Essential diving skills every diver needs on (almost) every dive. We also work with you on your buoyancy control- this means that you are floating in the water fully relaxed, without "drifting" up or down.
After the pool the first two real dives are waiting the next day. Now it's time to get into action and we will go down up to 12 meters.
Enjoy breathing underwater and marvel at the colorful marine life and corals of the Koh Tao reefs!
On the last day of the Open Water Dive Course we are going back into the sea and down up to 18 meters depth. And once you're on the surface again - you are a true diver! Time to celebrate your certification all together :)
Please contact us , so we can organize your Open Water Dive Course for you
To participate
you are at least 10 years old li> ul>

Summary
Schedule: 3.5 to 5 days
Day 1 (half day)

05:00 pm: Welcome and Introduction
Day 2

8:00 am: theory classes
Lunch Break
01:30 pm: practice skills in shallow water
If you like –we eat dinner together later.
Day 3

7:20 am: Into the blue to do two incredible dives (max. 12m!)
Lunch Break
01:30 pm: short theory classes
after: Final Exam (Don't worry – it's easy!)
If you like – we eat dinner together later
Day 4

7:20 am: Into the blue to do two awesome dives (max. 18m!)
Day 5

7:20 am: Into the blue to do your two extra dives (only GoAndDive.com gives you two extra dives for no extra charge!)
Congratulations Open Water Divers!
Let's celebrate!
Let's celebrate!
Prices
11000 THB*
* All prices are per person, in Thai Baht (THB) and include all taxes
Complete rental dive equipment such as BCD, mask, fins, etc. included
Complete Materials included (books, etc.)
10% discount on continuing courses